Written by: Cindy Copeland – Turgeon Raine Sales Associate
Two years ago, I had a health scare that took a serious toll on me both physically and mentally.  Although I made it out of ICU, I still had to face the fact that I would have to undergo major surgery. What I didn't expect was how emotionally draining this situation would be as I recuperated.  Every day, I mourned the old me and my old lifestyle.  My life was forced to change in many ways and I realized I would never be the same.
My recovery began by focusing on the positive aspects of my life.  I have two wonderful kids and an amazing job that I love.  I decided to move forward but never forget where I came from.
A few weeks after returning to work, I was part of a special event featuring a museum-collected jewelry designer named Paula Crevoshay.  Her one-of-a-kind pieces took my breath away.  As I looked through her jewelry, I was in awe of all the beauty and color. Then I saw it.  My ring.  It had everything that represented me in the now.
It is an incredible hand-made ring in yellow gold with gemstones representing something very special to me.  In the center is a stunning Cinnamon Zircon, which is believed to bring good health, surrounded by pink sapphires, which is my birthstone.  A special detail that caught my attention was the vibrant fire opals in the ring.  It is my brother's birthstone and it was a great way to remember him since I lost him in a car accident years ago.
This ring was absolutely perfect for me.  It brought me so many positive and happy thoughts after a difficult time in my life. I feel like the ring chose me!  It is truly an amazing feeling to have something that brings me joy, happiness and that sparkles throughout my day!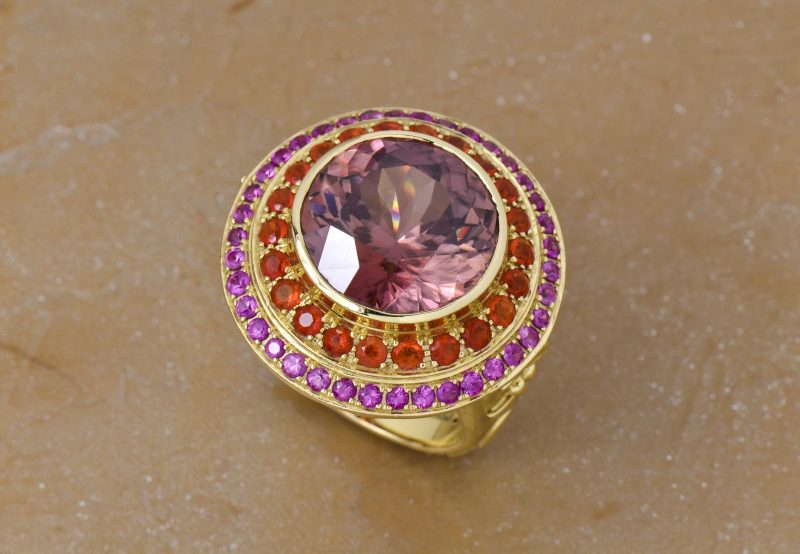 Someday when I put this on my daughter, I know she will remember me wearing it, and all it represents and how much it means to me. She can then wear it with pride and appreciation knowing that she has a special piece of me on her hand.
This is the importance and the power of fine jewelry and why it's not just a ring. It will stay beautiful and will sparkle and shine giving me smiles and memories forever.
Going through this tough situation help me put things into perspective. I've decided to devote more time to loving and taking care of me.  This ring is my daily reminder of how precious life is, how much I love the memories of my brother, and how much I love myself.
We should all treat ourselves to special jewels that commemorate special moments in time.
"The Way You Treat Yourself Sets the Standards for Others"
– Unknown